Here at My Family! we're thrilled every time someone leaves us a review online or tells their friends about us. But every now and then we get feedback that is so incredible that it blows our minds. The detailed review below is an example of one of those instances. In it, an NY pre-school teacher shares her experience with our latest release
Keesha's South African Adventure
and what it meant when she used it as a part of her curriculum. All we can say is thank you, Thank You, THANK YOU for sharing this with us!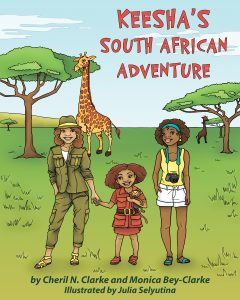 Keesha's South African Adventure
by Cheril N. Clarke and Monica Bey-Clarke tells the story of a curious and bright little girl named Keesha and her two mommies. Keesha becomes enthralled with the country of South Africa after learning about it in school and begs her parents to take her there. On the morning of her birthday, they surprise her with the trip of a lifetime! The story continues down an exhilarating path of South African customs and culture, where Keesha and the readers learn about indigenous foods, important landmarks, native South African animals, and traditional toys. As a preschool teacher, I can say wholeheartedly that this book captivates both children and adults alike. It's difficult to find stories as educational as they are exciting, yet
Keesha's South African Adventure
seems to do just that. The inviting and lovable storyline helps parents and teachers to educate their children on how to see past a little girl with two mommies by diving into a world of cultural excitement and diversity. The story works to inspire morality, sincerity, and acceptance. For kids, this book is an electrifying adventure in 32 short and enticing pages! For four-year-olds, the idea of taking a school bus is exiting enough itself. But taking an airplane to a country around the world and seeing wild animals they've only seen at a zoo, exploring dark caves they've only dreamed about from the comfort of their homemade bed-sheet forts, swimming in an ocean different than the beach they know, and watching toymakers craft wooden trucks and cars similar yet entirely different to the Hot Wheels they play with is enough adventure to last them a year! The book has opened up doors to conversations I never expected to be having with children so young. Because of the story, they are receptive to the concept of cultural diversity, understanding that there are people in faraway places who live life appreciably differently than we do, but are equally as important nonetheless. It teaches the children to be accepting of all different people, no matter where they're from or what their family dynamic may be. I find many of my students begging me, "Please read it one more time!"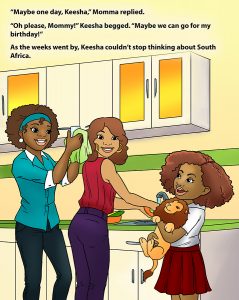 We love the book so much that we frequently go on South African adventures right there in the classroom. We set up safaris with all the stuffed wild animals we can find, recreate the Cango Caves out of cardboard boxes, use wagons to represent pontoon boats gliding down windy rivers made of blue butcher paper with hippopotamuses drawn in crayon, and shop at student-run boutiques where the kids can be their own toymakers, "selling" the toys they've built out of Legos and Tinkertoys by hand. The eager little adventure-seekers go home from school sounding just like Keesha after her thrilling trip… "I saw so many wild animals! We traveled through dark and creepy caves, swam in pretty blue water, ate different food like mealie bread and potato tarts, and met new people."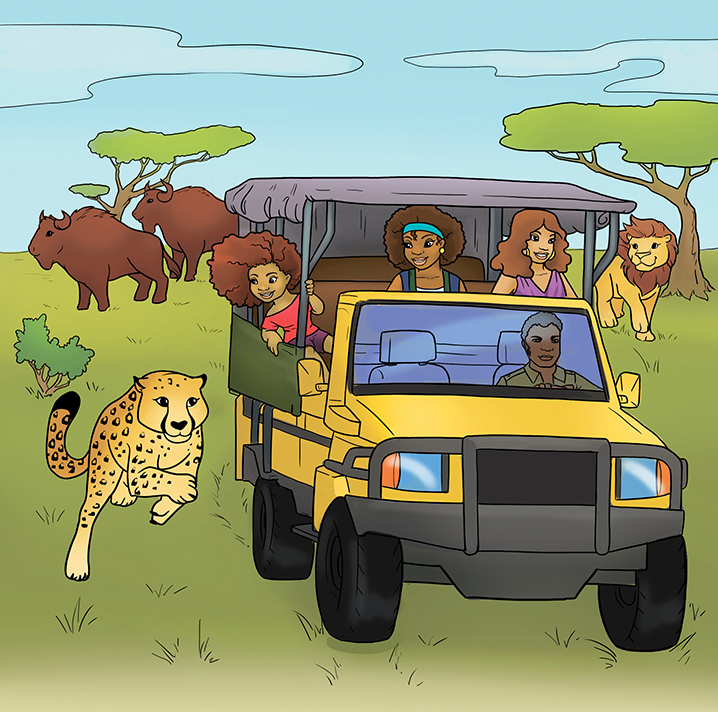 One of my four-year-olds has two mommies just like Keesha.
It's wonderful to see how energized and joyful he becomes when we read the book aloud and he's able to relate to the character in a way no other child in the classroom can. He feels special, as he should. His moms love it too, and have thanked me for incorporating literature into the classroom as accepting and progressive as the stories associated with MyFamilyProducts.com. There's not a lot of children's literature in the world that includes little girls and boys with same-sex parents.
Keesha's South African Adventure
has found a way to incorporate the idea of having two moms without making it the main focus of the story, teaching the children to be better and more accepting individuals without them even knowing! The book is as fun and engaging as it is educational and adventure-inspiring. This will be a story your tiny explorers will treasure and remember far into adulthood. –Alssya S.